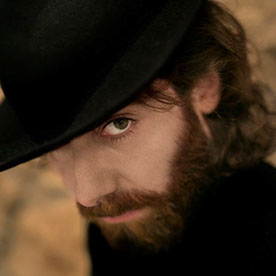 Italian painter based in Berlin.
MANIFESTO
Portrayed subject is a source of purposes, renewals and inclinations. All transformations come from within a boiling magma of an authentic personality.
Each subject is seen as a microcosm of the babelic universe.
Painter's intimate revelations are being transmitted to the cracking forms, resulting an aesthetical savageness.
The grey entities represent the essential substance and nucleus of reality perceived in an allegorical manner.
Grey expresses a metaphysical lens. Space is being conceived like a choked development and a proper frame of the transition from unconscious to conscious.
Black stands for the absolute metaphysical space - an architectonic nothingness that encases and determines the subject's atmosphere.

Collective exhibition in "Galleria Molteni" (2006, Rome)
Personal exhibition in "Locanda Atlantide" (2008, Rome)
Collective exhibition in "Circolo degli Artisti" (2008, Rome)
Personal exhibition in municipality of Siracusa (2009, Siracusa)
Collective exhibition in "Galleria Degli Zingari" (2011, Rome)
Personal exhibition in Alexander Museum (2013, Pesaro)
Collective exhibition in "Atelie Montez" (2014, Rome)
Collective exhibition "Art on Move Roma-Trieste" in Galleria Lux (2014, Trieste)
Contemporary art festival "schock one shot" in Aranciera di San Sisto (2014, Rome)
Collective exhibition "Arthug – Egitto" in Embassy of Egypt (2015, Rome)
Collective exhibition "Turkey Non Stop" in Reatro dei Dioscuri (2015, Rome)
Collective exhibition "Figurativo/Astratto" in Bat Gallery (2016, Rome)
Collective exhibition "Open House" in Bat Gallery (2016, Rome)
Personal exhibition "Metaportraits" in Wein&Gut (2016, Berlin)
Collective exhibition "Wunderkammer" in Supernova Gallery (2017, Berlin)
Collective exhibition "Schattenkabinett" in Supernova Gallery (2017, Berlin)
Collective exhibition "48 Stunden Neukölln" in Supernova Gallery (2017, Berlin)
Collective exhibition "Spleen" in Supernova Gallery (2017, Berlin)
Collective exhibition "Restless Christmas" in Private Office Berlin/Supernova Gallery (2017, Berlin)
Personal multimedia installation in Piazza G. Verga (2018, Sortino)
Collective exhibition "Symbole und Mysterien des Unterbewusstseins" in Private Office Berlin/Supernova Gallery (2017, Berlin)
Personal exhibition "Open Artist Studio" in Supernova Gallery (2018, Berlin)